Consumer Guide on Buying Jeans Online
What I am sharing here about jeans is right for jeans online and "offline", as nowadays, you find jeans not only in brick-and-mortar stores but also plenty of them in online stores. You are spoilt for choice!
And what you want to say about your jeans? Well, I got something to say about my jeans - they are one of my "must-have" items in my wardrobe!
The Right Pair of Jeans
I think that jeans that have an irresistible appeal are those that are designed and cut around your shape. Fit, skinny, slim, bootcut, straight, classic denim, you name it.
Your "job" is to choose the pair that hugs your shape well.
You know you have hit the jackpot when you get that right pair of jeans… Gosh! You feel absolutely fantastic in them.
It's terrible, and you know it when you don't get it right. You will feel uncomfortable as they cut into you in the wrong places and you never feel right!
You will let them sit in the "closet", and you will never wear them! True, right?
Jeans for Different Body Types
I have said earlier that jeans are designed and cut around certain body types. If you are tall or petite, you may have a tough time struggling with getting the right length.
Hey! Don't worry! There are so many versatile stores out there that provide jeans in a variety of lengths, so you will be able to find the range that suits you.

If you are curvy, go for the fit, and flare type as the flare at the ankle has the impression of lessening your hip width and making your legs look straighter and longer.
If you are petite, I strongly recommend you zoom into jeans that have long, clean lines with well cut straight leg design. Do n't try baggy style wide-legged jeans; they will make you look even shorter!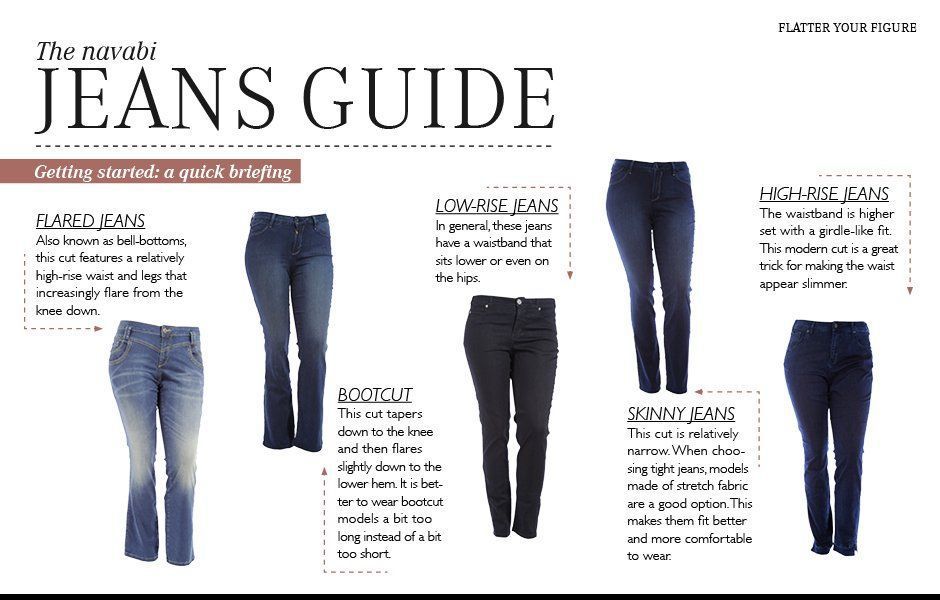 Fashions for Jeans
They constantly change – right now skinny and low waisted jeans are all the rage. But you don't have to follow this if this style doesn't suit you! Other styles will show off your best body parts while you still look fashionable!
If you prefer looser cuts of jeans, then boyfriend styles and the revived version of mom jeans may be more your style.
Like I said, get the right pair….I think I am repeating this like an old recorder….but you get it, right?
Teens have their own bright colours and styles that are hip right now, but there are plenty of hot jeans trends, one of which will be just right for you, no matter what your age and shape.
Popular Jeans Online
Skinny Leg Jeans – you get endless wear out of the right pair of skinny jeans, perfect with flats throughout the day, and so easy to glam up with stiletto heels for the evening.
If skinny leg jeans aren't entirely your style, you can go for a similar straight cut or even a bootcut, both of which are similarly flattering without being skin tight.
Wider cut jeans look great on taller ladies, and you can go for a flared or wide cut at the bottom, just make sure they are a good fit around your butt, this is where this style of jeans most flatters your figure.
Jeans Guide
If you're stuck trying to find the right sort of jeans to suit your figure, then let me help you out!
It's really important to find a style of jeans that suit your body shape depending on whether you are petite, tall, apple, pear or hourglass shaped.
It's just this, KNOW that there is the perfect pair of jeans online for you!